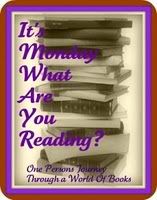 It's Monday! What are you reading? is a weekly meme hosted by
One Person's Journey Through a World of Books
.
This Monday I'm reading:
In this breathtaking new story from the astonishing imagination of James Patterson, a girl has to save herself from an army assembled just to capture her-and maybe save the planet while she's at it.

Maximum Ride is a perfectly normal teenager who just happens to be able to fly, the result of an out-of-control government experiment.

Max and the other members of the Flock-six kids who share her remarkable ability-have been asked to aid a group of environmental scientists studying the causes of global warming. The expedition seems like a perfect combination of adventure, activism--and escaping government forces who watch the Flock like a hawk.

But even in Antarctica, trapped in the harshest weather on our planet, Maximum Ride is an irresistible target in constant danger. For whoever controls her powers could also control the world. Maximum Ride is James Patterson's greatest character, a heroine who manages to be human and fearless at once
I started this series on Wednesday, and simply love them! Unfortunately, this is the last one my library has, so I have to wait for the next three to come on hold. Oh well. The only thing I don't love about this fourth installment to the series is that is is SO much shorter than the other three:( But besides that, it rocks:):)
What are you reading?